Business Leaders, Authors And Harvard Business School Alumnae Release Timely, Groundbreaking Research About Women Of Color In Business In Co-sponsorship With Executive Leadership Council
---
Online Access:
https://leadempowerthrive.com/research2020
NEW YORK, April 22, 2021—Bonita C. Stewart and Jacqueline Adams, trailblazing business leaders, co-authors, and Harvard Business School alumnae, announced today, in co-sponsorship with the Executive Leadership Council, the release of their 2020 Women of Color in Business: Cross-Generational Survey©. The new survey is an evolution from their 2019 survey which was included in their book, A BLESSING: Women of Color Teaming Up to Lead, Empower and Thrive, published last fall. Their latest research involved nearly 2,500 respondents across all generations, including Gen Z, Millennials, Gen X, and Boomers amongst Black, LatinX, Asian and Caucasian women. And for the first time, the research also included White male manager respondents.
Although the new survey covers a wide variety of topics, the two major new findings involve "generational diversity" and the importance of manager training.
"Generational diversity" is a term that co-authors coined to highlight the nuances that are being overlooked in today's Diversity, Equity and Inclusion conversations, specifically, representation across the generations.  The 2020 survey found that Gen Z and Millennial female "desk workers," especially those who are Black and LatinX, are supremely confident that they will control their careers. They are mission-driven, wildly creative and tech-forward, with 42% of Black Gen Z respondents saying that they are always the first to know about technological innovations, twice the percentages of women of the other races.  The Census predicts that these young people of color – currently ages 18-29 –will become the majority of Americans in the workforce by 2027.
The data has convinced the co-authors that "great managers matter." The generational changes are demanding workplaces of belonging for everyone.  When asked about mentoring, the female managers of all races were more magnanimous in their willingness to help anyone regardless of race or gender, ranging from 56%-65%.  Only 34% of the white male managers concurred.  The majority preferred to give (51%) and receive (61%) advice on the job from other white men because "I feel I can better identify with them."
To win the race for exceptional talent, leaders and managers must become comfortable with hiring underrepresented minorities in multiples, providing honest feedback, stretch assignments, and creating an inclusive environment for ideas to flow freely from all employees across all generations, genders and races.
Other areas in the research included: finance and investments, career satisfaction, professional development, as well as the pursuit of "side-preneurship," especially by Black women.
The 2020 data found that 46% of Black women were frequently or always the only person of their race in a professional setting, down just one point from 2019. By contrast, 72% of white women said that they were not very often or never the only person of their race in a professional setting, again down by one point from 2019.
This "onlyness" has costs.  Just as in 2019, twice as many Black women as their white counterparts said they faced extra scrutiny of their job applications and job performances because of their race. Large majorities of all of the female desk workers reported additional stress on the job as a result of the COVID-19 pandemic (70% for Black, 72% for LatinX, 60% for Asian and 67% for white women). The female desk workers also reported additional stress as a result of the racial and social justice protests:  54% for Black, 39% for LatinX, 34% for Asian and 30% for white women.
Stewart and Adams' findings are particularly pertinent as we continue to see a number of landmark appointments to leadership positions by women of color. They include the historic election of former Senator Kamala Harris as the first woman and woman of color to the vice presidency; 34-year-old Dr. Kizzmekia Corbett, a Black woman who is a key scientist on the National Institute of Health's team who is credited for developing the Moderna vaccine, which helped lead the way for a viable path to defeating the COVID-19 pandemic; Rosalind Brewer,  the new CEO of the national drugstore chain, Walgreens and Thasunda Brown Duckett, leaving her position as CEO of Chase Consumer Banking to become president and CEO of TIAA, as the only two Black female Fortune 500 CEOs.
Stewart and Adams have been "firsts" in their own right, which is why their proprietary research has been such a labor of love. Stewart was the first Black woman promoted to vice president at Google, leading sales and operations for the Automotive, Finance, Media/Entertainment and Travel sectors. Adams, an Emmy Award-winning broadcast journalist, was the first Black woman named a full-time White House Correspondent for CBS News, covering the Ronald Reagan and George H. W. Bush administrations.  To amplify joint perspectives around leadership opportunities for women of color and expand on limited existing research on Black women, Stewart and Adams's objective is to provide a stronger "by us, for us" voice that highlights their new discoveries. The duo also explores new questions surrounding entrepreneurship and side-preneurship, stretch assignments and manager feedback, financial well-being, and sisterhood.
Stewart and Adams said: "The bottom line is that great leaders and managers – male and female – want to win.  We advocate for a commitment to manager excellence through additional manager training and finding ways to create psychological safety so that everyone, especially the white male managers, can confidently 'team up' with highly qualified, ambitious women of color."
The Executive Leadership Council's (ELC) decision to partner with Stewart and Adams on the release of this consequential survey's findings is particularly significant because the information directly aligns with the organization's purpose of increasing the number of successful Black executives by adding value to their development, leadership, and philanthropic endeavors across the life cycle of their careers. "The past several months have seen multiple Black women make history rising to CEO positions in Fortune 500 companies and the highest leadership positions in government," says Michael C. Hyter, President and CEO of The ELC. "The issue is not the lack of qualified Black women. It's the lack of opportunity for Black women to ascend to these roles. The ELC is proud to support this research to empower and energize Black women, and enlighten their organizations, as they strive for future career success."
Stewart and Adams's 2020 book, A BLESSING: Women of Color Teaming Up to Lead, Empower and Thrive, is an optimistic and realistic analysis of Black female leadership. With a foreword written by Kenneth Chenault, Chairman and Managing Director of General Catalyst and former Chairman and CEO of American Express, the authors provide tools, data, and inspiration for entrepreneurial and corporate women of color as well as their allies—regardless of their race or gender. Highlighting Stewart and Adams' work is their original proprietary research, the 2019 Women of Color in Business: Cross-Generational Survey©, which examined the views of 4005 female "desk" or "knowledge workers" across four races (Black, LatinX, Asian and white) and four generations (Gen Z, Millennials, Gen X, and Boomers). The book is filled with personal anecdotes and reflective experiences based on their respective careers in the technology, brand marketing and national broadcast media industries and serves as a framework for women of color to work together, team up and shed the cloak of invisibility and aloneness.
#  #  # 
Bonita C. Stewart, Google VP of Global Partnerships
Bonita C. Stewart brings extensive consumer technology and operational experience as her career spans over two decades of digital transformation across multiple industries. Since joining Google in 2006, she has risen to lead multi-billion dollar operations and driven adoption of digital technologies within the US and Americas. Currently, she oversees the company's Global Partnerships team for the largest US publishers across Search, Mobile Apps, Commerce, News, Broadcast, Telecommunications and Domains.
Ms. Stewart was the first African American woman vice president at Google. Over the past several years she has been recognized externally for her leadership as a Woman to Watch (Advertising Age, 2011), Power 100 (Ebony, 2012, 2019), Woman to Watch in Tech (Crain's NY, 2014) and Most Powerful Women (Crain's NYC, 2015, 2017, 2019). In 2017 she created the concept for Howard West, a technology immersion program for historically black colleges and universities (HBCU), powered by Google.
In 2014 Ms. Stewart was nominated to the Deckers Brands corporate board [NYSE:DECK] and currently serves on the corporate governance and compensation committees. She served on  the Pluralsight corporate board [NASDAQ:PS] from 2018-2021, and in 2021 she joined the PagerDuty corporate board [NASDAQ:PD].
Prior to Google, she served as Director, Chrysler Group Interactive Communications for DaimlerChrysler AG and spearheaded all digital efforts for Chrysler, Dodge and Jeep. During the Dot Com era she was recruited back to DaimlerChrysler to lead Chrysler brand's $400 million advertising and marketing operation. During her leadership tenure Advertising Age named the Chrysler Group the 2005 Interactive Marketer of the Year and she co-authored "The Fifth P of Marketing," an article for CRM Magazine. During the first stint of her automotive career Ms. Stewart led the brand development for future and existing Dodge passenger cars and minivans representing an $8+ billion annual revenue target.
In 2012 and 2013 she received award recognition from the Harvard Business School and Howard University respectively for alumni achievement. She has served on the following non-profit boards: Detroit Music Hall, Cranbrook Art Academy, Harvard Business School African American Alumni Association, Lincoln Center for the Performing Arts and Harvard Business School Club of New York City. Currently, she serves on the American Ballet Theatre Advisory Council for Project RISE and board member for the Women's Forum of NY.
Ms. Stewart spent her formative years in Denver, CO and graduated magna cum laude with a Bachelor of Arts from Howard University and an MBA from Harvard Business School. She resides in Englewood, NJ with her husband, Kevin Stewart (HBS 1979).
Jacqueline Adams, President, J Adams: Strategic Communications, LLC
Jacqueline Adams launched a second career as a communications strategist after more than two decades as an Emmy Award-winning CBS News correspondent. A natural "connector," she has the unique ability to hear clients' strategic concerns and find creative solutions, drawing upon her wealth of contacts and experiences in media, business, academic and civic circles.
Through her boutique consulting firm, J Adams: Strategic Communications, LLC, she counsels a variety of corporate and non-profit clients. She has had multi-year engagements with the global communications strategy firm, Burson-Marsteller, and the Ford Foundation. She serves as a senior advisor to the new payment platform for publishers, NICKLPass and has a major role in the training program for rising star managers of color, The Diverse Future. In 2020, she launched a bi-monthly column in The Christian Science Monitor.
Ms. Adams covered the groundbreaking campaigns of Jesse Jackson for President and Geraldine Ferraro for Vice President before spending five years as a White House correspondent during the Ronald Reagan and George H. W. Bush administrations. In the 1990s, she was a prolific contributor to the CBS Evening News with Dan Rather and CBS News Sunday Morning. She won a News and Documentary Emmy Award for the 48 Hours broadcast, "The Search for Matthew."
A graduate of Harvard Business School, Ms. Adams deliberately saves time for a number of non-profit activities. She serves on the Board of Directors of the Harvard Business School Club of New York and was among the alumnae profiled during the school's 50th anniversary celebrations of women and African-American students
She is a member of the Council on Foreign Relations, the International Advisory Committee of the United States Institute of Peace, and the Advisory Council of the Milken Center for Advancing the American Dream. She is a patron of the Alvin Ailey American Dance Theater and has just concluded the fifth year of a planned decade-long study of classical composers at the Juilliard School of Music's Evening Division.
About The Executive Leadership Council
The Executive Leadership Council, an independent non-profit 501(c)(3) corporation founded in 1986, is the preeminent membership organization committed to increasing the number of global Black executives in C-Suites, on corporate boards, and in global enterprises. Comprising 800 current and former Black CEOs, senior executives, and board directors at Fortune 1000 and Global 500 companies, and entrepreneurs at top-tier firms, its members work to build an inclusive business leadership pipeline that empowers global Black leaders to make impactful contributions to the marketplace and the global communities they serve. For more information, please visit www.elcinfo.com.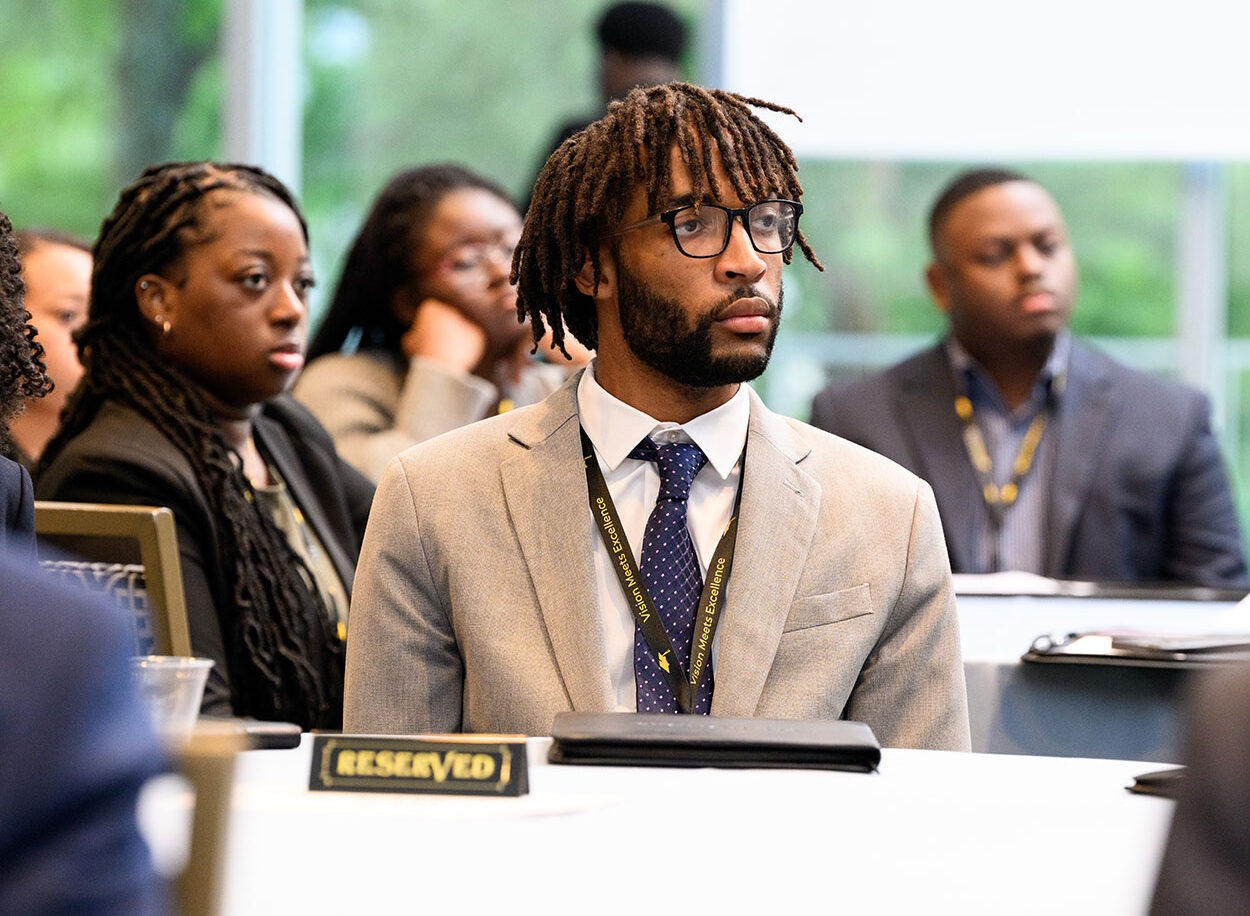 Get Started
Learn how you can get involved with The ELC.